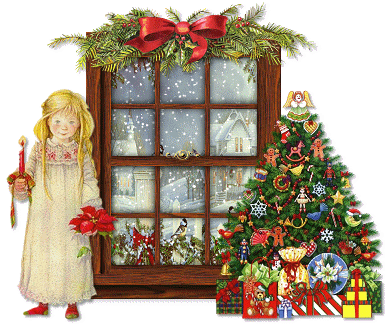 "It's beginning to look a lot like Christmas…"……It definitely is! Before you can even celebrate Thanksgiving, stores are preparing for Christmas. The gifts, the decorations, the cookies: all of it just puts you in the holiday spirit. People all over celebrate Christmas in different ways with their families. It's a time for happiness and peace, and a time to be together with the ones you love. For some, Christmas is one of the most special and anticipated days of the year. Being a fan of Christmas myself, I've decided to write this post for other Christmas fans as well.

1. What do you love most about Christmas?
Irishclover7: I love the decorations and the music most. Both of those just scream Christmas for me. Course, I do love the food too. Its like a second Thanksgiving!
Natalieallan: The country being on shutdown, there's nothing nicer when you live in the city to get a break from the constant traffic night and day. The shops are shut and you get to relax
Rychesgirl: Spending quality time with friends and family
Suzanne: When it's over (lol) the kid's excitement 
KittenQueercat: The holiday spirit, the give-away ceremonies, decorating my tree in a different theme each year, the cold weather, listening to my xmas mixtape(http://www.imeem.com/people/sww0PLJ/playlist/QhiayGcK/merry-xmas-music-playlist/), making presents, cookies, and, I'm not gonna lie, getting presents, the lights, the decorations, the ancient holiday of Yule… 
Kaisa:  Hard to say, maybe the Christmas spirit when everybody get together. Christmas holiday is a good thing too and the movies that come from tv
2. What is the Best or Worst Christmas gift you have ever gotten?
Irishclover7: Not sure about the worst Christmas gift. I guess when I was younger the worst Christmas gift would have been clothes, but now I ask for clothes for Christmas. The best Christmas gift, would probably have to be my electric scooter. I loved riding that thing!
Natalieallan: Best present = a kitten, worst present = a bible (donated it to the local Christian book store)
Rychesgirl: Best gift was a digital camera, worst gift was childish gifts from my Aunts. 
Suzanne: Nothing I can honestly remember 
KittenQueercat: The best present I have ever received is my laptop! Thanks, mom!  The worst would have to be one year where I got nothing but a blanket, but I'm not ungrateful.  It's my favorite warm blanket ever with a deer on it and way better than coal…
Kaisa:  Once I got these "dry leaves" that are supposed to smell good (it was from a friend). I had no idea what to do with them. After keeping them in my closet I threw them away. The best gift is probably the cellphone I got two years ago or then the theater tickets I got last year.
3. What are your favorite memories of Christmas?
Irishclover7: My favorite memories of Christmas is the part when I get up real early and look around at all the presents sitting around and the tree all lit up. Then I'd take down my stocking and open it, while Christmas music played in the background.
Natalieallan: Being little and the youngest in my family, I'd get spoiled rotten. My mother always chose the best presents and it would be fun. Don't get spoiled so much now…
Rychesgirl: Having the whole family over for Dinner. We had a packed house that day. 
Suzanne: Waking up early Christmas morning when I was a little girl and all the presents
KittenQueercat: Being a little kid and waking up Christmas morning, decorating a Heaven and Hell themed tree one year with white lights and angels on the top and red lights and ozzy osbourne ornaments on the bottom, sharing my first christmas with a boyfriend I love, and the year I had tons of money and got everyone in my family alot of great presents!
Kaisa:  My first Christmas I remember was probably the best. I still believed in Santa Claus and his little helpers. When Santa came to the house (in Finland we celebrate Christmas in Christmas eve, the Santa comes in the afternoon, gives the gifts and goes to other house), I scared him so much that I ran to my room and went under the bed. I got many gifts and I was so happy
4. What Christmas songs or movies do you love the most?
Irishclover7: My favorite Christmas songs would have to be "O, Holy Night!", and "Have a Holly Jolly Christmas". I love those songs. And my favorite movies would be all of the Rankin Bass, animation movies, (plus all the songs from those too!). I also like Elf with Will Ferrell, and the Santa Clause series with Tim Allen.
Argelmatta: Home Alone, definitely!!! and Skipping Xmas.
 Natalieallan: I love the home alone movies, they're great. We tend to get a lot of crap like Mary Poppins here in the UK. Songs, I like all the rock n roll stuff like Slade and the Darkness. Wizard is good too.
Rychesgirl: Fave movie "The Santa Clause" 
Suzanne: A Christmas Story (classic love it), Frosty the snow man, I saw momma kissing Santa clause, and the chipmunk one (the hula hoop gets me every time) 
KittenQueercat: For songs, see the above mix.  My favorite christmas movie….hmm, that would have to be The Dangerous Christmas of Red Riding Hood starring a young Liza Minelli. 
Kaisa:  I almost hate Christmas songs these days because they get stuck in my head. But the one where they sing like silent night, holy night, …. you know? That's pretty beautiful song. I like all Christmas, no favourite.
5. What are your favorite Christmas recipes, or cookie recipes?
Irishclover7: I love most all of it! I love to make decorated sugar cookies for Christmas, and I also love the Spinach Dip. And you cant forget the Farm Store egg nog, yum!
Natalieallan: Yule log, Christmas cake, and orange and cranberry muffins. I also like to cook venison and Christmas and making those chocolate coin things you hang on the tree is fun. I'm a big foodie so I tend to cook buffets rather than set meals. There's nothing better than making your own mulled wine too.
Rychesgirl: Chocolate Chip Cookies, & Lasagna. I make a mean one. 
Suzanne: my mother's peanut butter fudge or her spice bread yummy!! 
KittenQueercat: Gingerbread house and sugar cookies with hot chocolate.  White fudge with peppermint pieces.  
Kaisa: Often in Christmas we eat potatoes with this really good meat sauce (my mom's own recipe) and then some salad, boiled eggs, this good cheese, carrot and rutabaga casserole. Nothing special really. Oh, of course we have those traditional cookies and mince pies.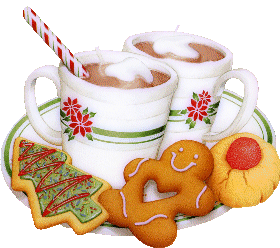 Ah, Santa Clause. The big man with a white beard and a red suit, who rides through the night in his sleigh pulled by reindeer and delivers presents to all the good little boys and girls. What a man he is, to be able to pull all that off within 24 hours. Lucky for him he only works one night a year. His elves however work the whole year, making tons of gifts for the children.
The story of Santa Clause has been around for years, and each country has their own version. And though some people may not believe in Santa anymore, you can believe that there was a real Santa. Yes, he did exist. Maybe not in the way your story books describe him, but there was a man who delivered gifts, as I recall, a Saint Nicholas. Of course we know that the original Santa never wore a red suit, nor had elves and reindeer, but over the centuries, we've adapted our own version of Jolly ol' Saint Nick. And while Santa is a popular product of our imagination, and our way of commercializing Christmas, we must remember what the holiday is really about: the birth of Jesus. And if you believe otherwise, then so be it. Yes, Santa, and presents, decorations, and lights, all symbolize Christmas today, but without Christ, there would be no CHRISTmas.
Celebrate Christmas with Santa

Christmas dinner it seems is one of the most anticipated things next to opening the presents on Christmas morning. Families gather round at a table to enjoy home cooked food of all sorts! Of course, what could be better than the dessert? Cookies, pies, puddings, oh my! And who wouldnt want to cozy up next to a warm fire with some hot cocoa or eggnog? I've picked out a few recipe sites you might enjoy. Try them out !
Kaboose Christmas Crafts and Recipes
Christmas on MarthaStewart.com

 Now on to Christmas shopping! Probably everyone's favorite part of the season, right? Well maybe not. For some its exciting and for others its just a drag. And many get it done early to avoid the Christmas rush. Many years Christmas shopping (like the day after Thanksgiving) has proven to be quite deadly. Sad to see that many will  trample over other people for a sale. Which is more important: your life, or that HD TV? But anywho! Lets not bring sadness into the holiday season. Lets enjoy the holidays and enjoy a very simple shopping trip as well. Use these links to help you find deals on your Christmas presents this year!
Guide to best day after Christmas sales online
Christmas shopping without the hassle!

 Another part of the holidays is travelling. People all over travel to their parent's houses, or to their friend's or sibling's houses to celebrate Christmas. And you know, during the holidays hotels will be packed, and the roads will be full of traffic jams. Just wonderful isnt it? Thats when you turn up "Jingle Bells" really loud, and have a party right in your car! Kidding of course. If you didnt know, some fun places in America are all about Christmas, and even have Christmas themed names, like Santa Clause or yes, even, Christmas. You could skip the Christmas dinner with your family (although Im sure you wouldnt), or maybe even invite your family, to some of these unique holiday destinations. And when we say holiday, we really mean it! But book early, hotel rooms go fast!
Fort Christmas, Christmas Florida
Holiday World, Santa Claus Indiana
Santa's Lodge, Santa Claus Indiana

 "Oh, Christmas tree, oh, Christmas tree, how lovely are your branches…"
Ah….dont you just love the smell of Christmas trees? I do! Its one of my favorite smells of the holidays. The fun of picking out your Christmas tree, taking it home, and decorating it is what really brings back ol' memories. Its something the whole family can be involved in. And I know little kids love to put the decorations on the tree, including the ones they've made themselves! Whether you go to your nearest Home Depot or Walmart, or to an actual tree farm, picking out your Christmas tree is a very special moment. Here are a few Christmas Tree links, to find your own Christmas tree this year, or to join the National Christmas Tree Association.
National Christmas Tree Association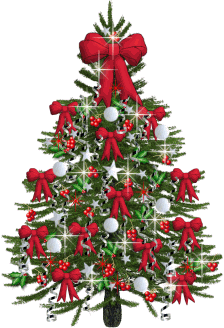 Who doesnt love Christmas Carols?? I mean, you cant have a Christmas holiday without singing them, or turning the radio up real loud. It just wouldnt be Christmas without good ol' Burl Ives, Elvis, Bing Crosby, and all the rest! You can find song lyrics with the link below, or download them from Walmart, iTunes, or Amazon.com.
Let it snow! Let it Snow! Let it snow!  Snow is quite a wonderful sight to see during the Holidays. I myself have never seen snow, but I can imagine how wonderful it is. For those who live up north where it seems to be always snowing, they proabably feel differently than I do, and they're probably wishing they lived down here in the South. But for some of us who cant get up north to see the white delight, we can surely have close-to-the-real-thing right in our own home or backyards! And Im not talking about that cheap snow, Im talking about cold, wet, instant snow! I found this online and I just love it. Its reusable, so all you have to do is re-wet it when you want to use it again. And it feels just like real snow. Your kids will deffinitely enjoy this! Use it in the house, outside, for crafts, or decorations, or for whatever else comes to mind. You can even create little packs of snow to give as gifts. And hey, with enough of it, you can even build your very own snowman.
One of my favorite things to do during the holidays is watch Christmas movies. And I have a lot of favorites! And Im sure you have plenty of favorites as well, that you like to share with your family. So I decided to make a list of the top ten Christmas movies I love, that I think you'd love too (if you havent already seen it!), and maybe you can find a movie to watch this year with your loved ones.
10. Charlie Brown Christmas – Who doesn't love the classics? Charlie Brown is a big classic for any holiday, and Christmas especially. It's a movie for the kids, and the adults, and it's a nice little movie to warm your heart.
9. Christmas Vacation – Hilarious! Maybe not for children, but definitely one for teens and adults! Chevy Chase is so funny in this movie, and you'll still be cracking up even after it's over. In fact, I wonder if most families come close to these nut-cases during the holidays!
8. Santa Claus is Coming to Town – A Rankin/ Bass classic. You just gotta love Fred Astaire in this one. Plus several of the songs are catchy. Although not the actual story of Santa Clause, I still love this movie.
7. Snow Dogs – Cuba Gooding did a great job in this one, as a dentist who goes to Alaska after his mother dies, and finds out his father is white. The dogs are cute, and so is the story. It's a great family movie.
6. The Grinch – I prefer the one with Jim Carrey to the cartoon. You just can't beat Jim's hideous touch to the wonderful character. It's more lively and colorful compared to the cartoon version, and you laugh! You can't laugh to anything in the cartoon, which makes this movie a big Christmas hit in my book!
5. Snow 1 and 2 – This aired on ABC Family. It's an ABC Family original I believe, and you can buy this on DVD at Amazon, and probably from ABC's website. Both movies are wonderful!!!!! I absolutely love the idea in this movie, and it really does make the holidays even better. Great movie to watch!!
4. The Polar Express – I was a little hesitant before watching this movie. It didn't seem to interest me very much. Then I watched it and was a little confused. After watching it again, I actually found that I love it! The message it sends is perfect for those little non-believers, and it does make you want to believe again. Iif you pay attention, you'll notice that Tom Hanks plays a majority of the characters.
3. The Christmas Story – A CLASSIC!!! How can you compare to the leg lamp, or the tongue stuck to the pole routine? If this movie doesn't make you bust out laughing then nothing can! You can't get anymore Christmas that this folks.
2. Elf – I am a big, big, big, fan of Will Ferrell. He's hilarious in most everything he does. And this movie was a chance to see a more playful and less vulgar side of Will. Its perfect for kids and families all over, and it does give you several laughs. It's a great movie to watch.
1. The Year without a Santa Claus – Now to my all time favorite! I love Rankin/ Bass movies, but this one tops the charts. I love every song in this movie and every time I watch it, I sing along. Plus, I just love the Miser Brothers!! (I'm more partial to Snow Miser myself). It's just a cute little movie, and kids will love it too.
I almost forgot one! I dont know how I missed these movies, because I love them so much. The Santa Clause series! Never has Tim Allen ever done a more superb job in a movie, IMO. These three movies are fantastic, funny, charming, delightful, and magical!! A must must see for everyone!!
Top 25 Christmas Movies of all Time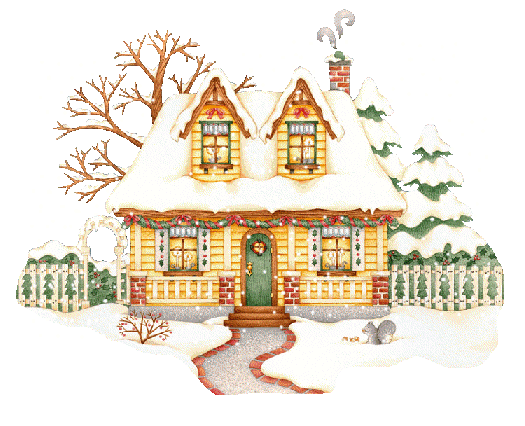 Lets not forget the children this holiday season! Find Jokes, Coloring pages, e-cards, and more with the links below. Plus, learn how to say "Merry Christmas" in 123 languages around the world.
Merry Christmas in 123 languages 
And make your child's holiday even more memorable with a letter or phone call straight from santa himself!  Find different packages and different rates using the website below.
Get a letter or phone call from Santa
Thanks for checking out my Ultimate Holiday Blog!